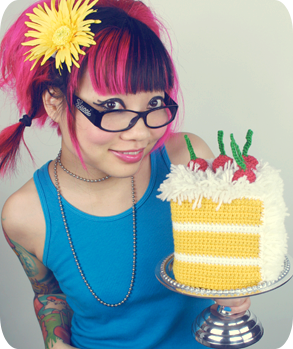 I've always had a lot of fun dreaming up delicious designs for my cake-themed tissue box cozies. They take a typically tacky, granny-like project to a whole new level of cute and kitsch.
It has been a wish of mine to have a little shop filled with a sugary assortment of colorful cozies, displayed on pretty cake stands. However, I simply can't find the time to do this all on my own. Here's where you come in!
I thought it could be fun to turn this crocheted-cake-tissue-cozy-shop into a group project, with all of our proceeds going to a charitable cause. You get to express your creativity, generosity, and sense of community, and also promote your own indie business on your custom hang tag as well as in a gallery on this site; the buyer receives a beautiful, useful, hand-made item for their home; and a charity benefits from all the sales, less credit card or PayPal fees.
I would truly love if you joined me on this new adventure! I plan to display our first batch of cake cozies at my booth at Renegade Craft Fair Winter Market in San Francisco this coming December 21-22, 2013, which usually attracts over 10,000 visitors. Any remaining or newly sent cozies will then be available for sale here on this site (store will come soon!).
Please check out some of my sample crochet patterns and inspirational photos for ideas and direction, but I think you'll have a lot of fun concocting your own new flavors and recipes. Once we have a  handful of submissions, I will create our gallery page with photos of your cozies and links to your websites or shops.
Let's have our cake and share it, too!
(P.S. Thanks to my buddy Elysse and her hubby Peter for coming up with the name Tissue Box Bakery! Close second: Blow Your Nose Bakery!)